Online agents still not sold your property?
---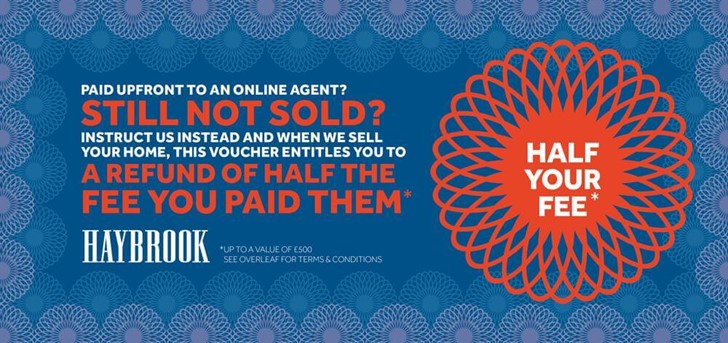 This non-transferable Haybrook voucher entitles you to claim up to 50% of the upfront fee you paid to your online agent. This offer is subject to these terms & conditions.
The offer is limited to one voucher per property purchase and will close on 30th September 2019, after which no further cash back vouchers will be issued although existing vouchers can still be used.
To get started, request your free, up to date valuation of your property.  
Offer Conditions
To qualify for the Haybrook Online Offer the following conditions must be met:
This voucher entitles you to claim up to 50% of

the upfront fee, subject to a maximum of £500

Proof of the online upfront fee to the online

agent must be supplied with the claim

Redeem the voucher in accordance with the redemption conditions
A Haybrook 'for sale' board must be displayed at the property for the duration of advertising
Redemption Conditions
To claim your cash back you must have complied with the Offer Conditions and then:
To claim you must write in enclosing your voucher, along with confirmation of your name and the full address of the property
Submit your voucher to: Anne Boylan, Haybrook Finance Team, Group Services, Colwyn House, Sheepen Place, Colchester, CO3 3LD
Voucher can only be redeemed once all fees due to Spicerhaart group have been paid.  Fees must include Haybrook's standard agency fee of 1.65% (plus VAT) of the sale price agreed
Voucher must be redeemed within 30 days of completion of the property transaction with Haybrook
Processing your cash back voucher
Please allow 3 weeks from receipt for us to process your Cash Back Voucher and send out your cheque for the claim.
The terms of this offer are subject to the laws of England and Wales.